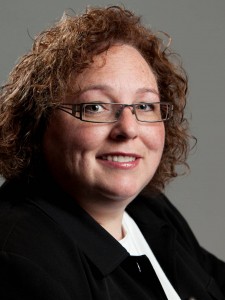 Caroline Way was born in Portland, Oregon, raised in St. John's, Newfoundland until high school, when her family moved to Ontario. Currently she lives in Hamilton, Ontario, where she received her B.A. in Drama from McMaster University. From there she went on to obtain an M.A. in Communication from Regent University in Virginia Beach, VA, where she studied film making and screenwriting. Once an active member of community theatre in both Ontario and Virginia, Caroline has always enjoyed exploring the "how" and "why" questions of the characters she portrayed, directed and created. Caroline was also a member of the Act One: Screenwriting for Hollywood inaugural class of '99, and is an associate member of The World Guild. Caroline has worked on many types of productions, from television commercials to feature films, in a variety of capacities. She has written and directed two of her own short films as well as a documentary for the town of Pickering, Ontario, and instructional video for the Ontario Principals' Council. Currently, Caroline works as an Executive Assistant.
Caroline knows that sometimes the way God works in our lives is very evident in the moment. It is so obvious that there's no doubt He's in control, that he is creating a work of art. At other times God's design for our lives is less discernible. It is not that we don't believe He's working when it is less obvious; it is more often that we wonder how he's working. We look for the "why" and the "how" in it. Why are things happening this way? How can this possibly be a good thing? We sometimes question His wisdom because we don't, or can't see the total of what He intends to create. It is especially difficult when the creative process is a painful one.
Through the events of her life, Caroline has come to recognize God's control of it all, but the recognition did not come without the "how" and "why" questions. So, when someone made a passing comment about Job's wife and how the only thing we know about her is that she told Job to curse God and die, Caroline was struck by the idea that she, Job's wife, probably had a lot of those same questions. After all, it wasn't just Job who lost everything, his wife did too. From that the concept for Confessions of a Farmer's Wife was born. Caroline explores the idea of having the life you want only to lose it abruptly and mysteriously. How do you still love and worship God in the middle of it all? Why do you do so? Sometimes you just do. Sometimes the answers come after, and sometimes they don't come at all.